Finding Peace and Resolution: The Death Doula Program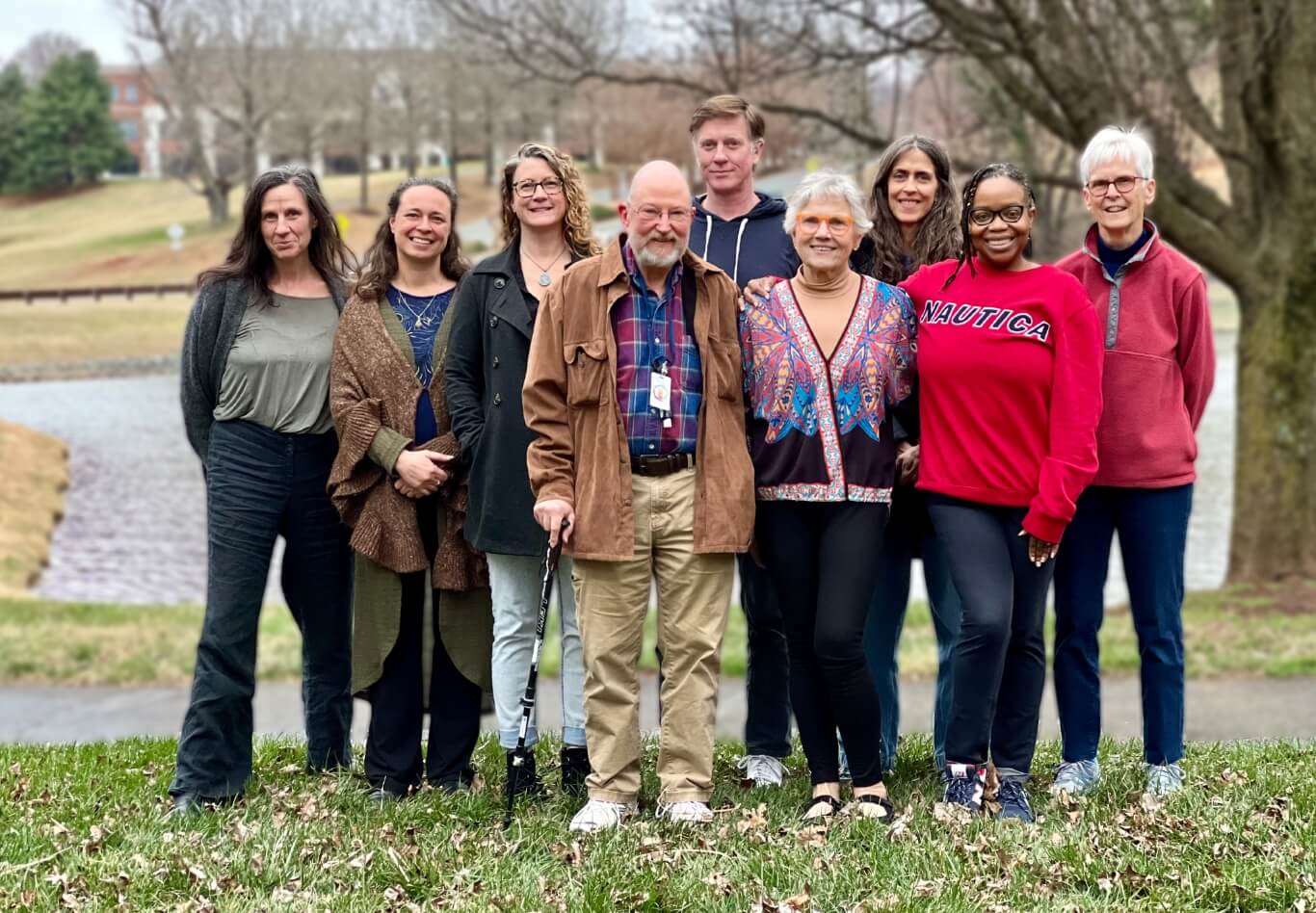 Inspired by the role of a birth doula, who accompanies a person and their family throughout a pregnancy, a death doula helps patients and loved ones through the final months of life. Our death doulas (sometimes called "end-of-life doulas") offer a compassionate, safe, non-judgmental presence during a significant and potentially tumultuous time. They provide practical support, listen to concerns, and act as a sounding board as people navigate one of life's most mysterious events.
---
What Does a Death Doula Do?
Many emotions may come up during your experience with hospice or palliative care. A doula is comfortable sitting with you as you explore these challenging moments, and can offer a supportive ear for any authentic conversations or stories you want to share. Below are a few of the ways a doula can support you.
Intentional Presence
Simply put, a doula can be there for you as a steady, quiet presence. They can hear life stories and help you explore emotional and practical questions about your experience.
Space for Reflection
Doulas can help you explore the purpose of your life as your needs and capabilities shift. For many, that can include creating legacy projects to express their memories and emotions.
Planning and Advocacy
You can talk to your doula about your wishes for your time in hospice, your death, and your funeral or memorial service. They can help bridge communication between you and your loved ones and advocate for your wishes.
---
Why Work with a Death Doula?
While the support of friends, family, and loved ones can be important during this time, a doula can be present in a different way. No matter what emotions you're feeling, you can be honest and transparent with your doula in a way that might be difficult with family members. The image below captures some common experiences people have when working with a doula.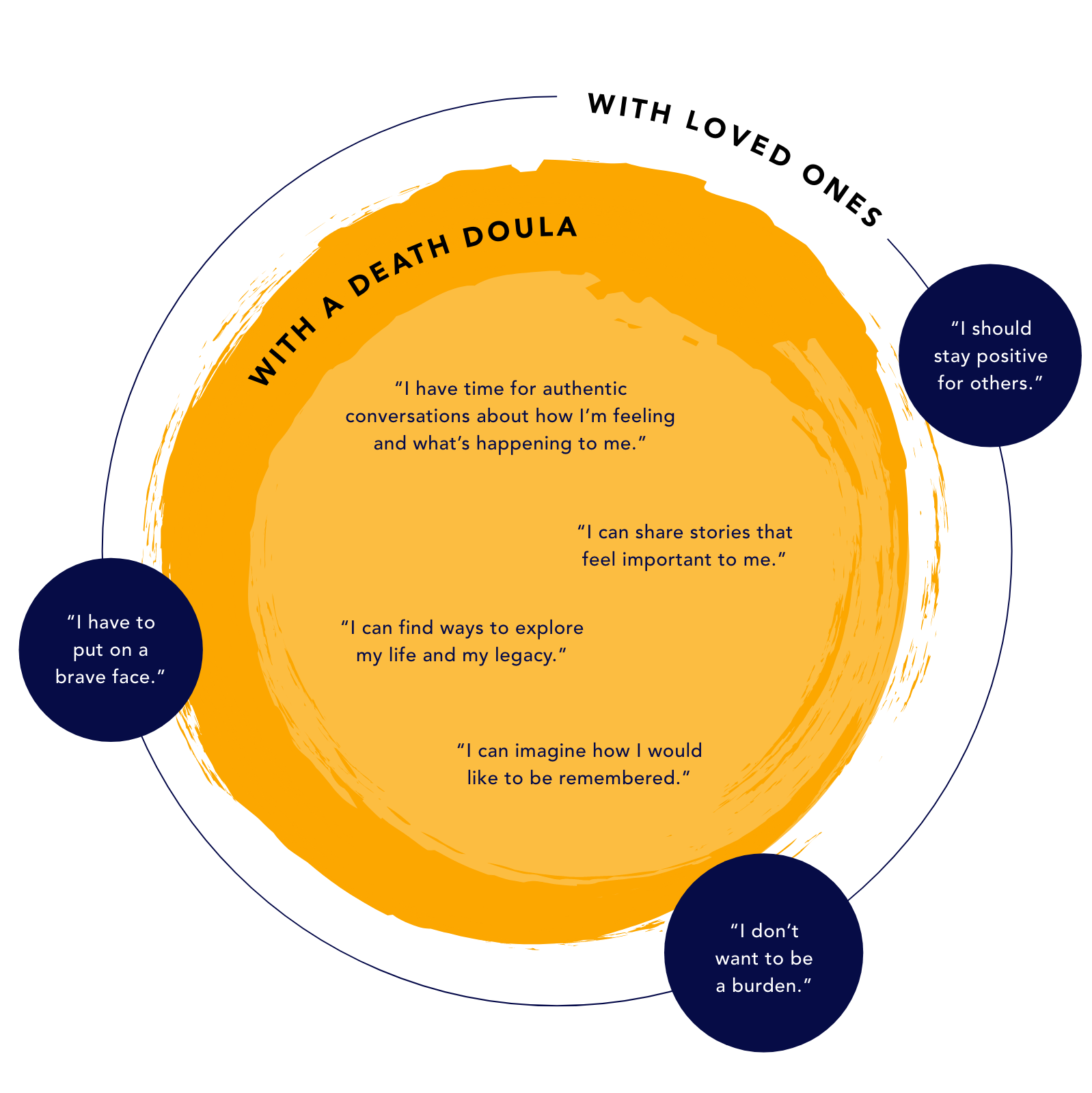 If you're interested in taking advantage of this service, we'll pair you with your own dedicated doula. You'll have a chance to meet with them 1:1 first to make sure they're a good fit for you and your family.
Once you've decided to move forward with your doula, they become a member of your care team. The length and frequency of their visits is worked out between you. Your doula does not replace other hospice supports, but is an additional resource available to those who may benefit from a dedicated guide.
The death doula service is available to anyone in Hospice of the Piedmont's service area, and comes at no cost to the patient/family. To get started with this meaningful service, contact doula@hopva.org.
---
Want to Become a Death Doula?
Volunteering as a death doula is a beautiful way to make an impact during a pivotal moment in a person's life, guiding them through their final months with dignity and purpose. Death doulas also play an important role in supporting family and loved ones throughout the death journey.
There are no prerequisites for the Hospice of Piedmont death doula training except passion, open-heartedness, stillness, and courage to accompany people navigating one of life's most sacred events. Serving as a doula involves active listening, curiosity, and empathy. Students will be trained to use these skills to specifically support hospice and palliative care patients. Doulas certified through the Hospice of the Piedmont program will work closely with clinical care teams to offer a fuller picture of the patients and families they serve.
If you're interested in being certified as a death doula through our certification program, the first step is to complete our free 50-hour intensive training. Upon graduation, doulas are placed with patients to provide an additional layer of support.
For more details on volunteering, click the button below.
---
Death Doulas in the Community