Last month, we posted two behind-the-scenes videos to Instagram and Facebook featuring our beloved hospice therapy dogs, Mr. McGee and Bodhi. Not surprisingly, their fans went wild, and now people are "begging" for the inside scoop on everyone's favorite four-legged volunteers.
If you enjoyed the holiday-themed videos of Bodhi and Mr. McGee visiting patients and staff at the Center for Acute Hospice Care (CAHC), you'll love this interview with some of our team members at the CAHC, and Joyce Blanton, a human volunteer, and Bodhi's person.
How to become a Hospice Therapy Dog
Aside from being social media celebrities, you may be wondering, what exactly do hospice therapy dogs do? And how did they become therapy dogs?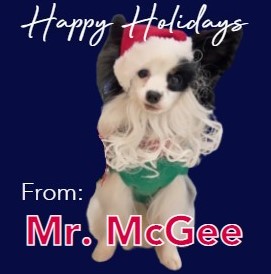 Joyce Blanton became a hospice volunteer about six months before she got Bodhi. "I've had dogs my whole life. It wasn't until I became a hospice volunteer, though, and met others who were planning to have their dogs as therapy dogs that I even considered the idea," said Joyce.
So, Joyce began to think about which breed might have the proper disposition for the therapy dog lifestyle. She decided on a Barbet, also known as a French Water Dog.
Joyce met Bodhi in February 2020. "The breeder told me that, out of all the pups in that litter, he would probably make the best therapy dog because he was pretty laid back and calm as a puppy."
Joyce trained Bodhi for over a year before he was officially ready to be a Hospice Therapy Dog. Today, Bodhi, and his colleague Mr. McGee, are a welcome presence for patients and staff at Hospice of the Piedmont.
"I love them! They bring joy to the unit," said Melissa Huber, Team Coordinator for the CAHC and the Hospice House. "We get excited when we hear the little tags coming in the door. We could be having a rough day, and they bring calmness and a sense of peace to the staff and the patients."
What do Hospice Therapy Dogs do?
What exactly is Bodhi's secret to creating peace? Joyce explains, "He sits and lets patients pet him. Many of the patients we see in hospice don't have much energy to do much more than that, but they love being able to just run their fingers through his hair, which is one of the reasons I keep the hair on his body as long as I do."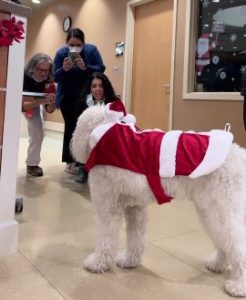 "Bodhi is wonderful. He's like a big walking plush carpet," said Kathleen Anderson, RN at the CAHC. "He can rest his head on the bed where patients can pet him and look at his beautiful brown eyes. Patients really like him."
"He makes the patients feel calm and happy. And it might make them forget how they feel at that moment if they're in pain. They might feel a little more at ease because they can pet him, or just seeing him is enough to bring joy," said Melissa.
While making a connection with an animal may sound like an everyday occurrence to some of us, Joyce explains how something so simple can have a profound effect, "We visit dementia patients, and we're there to see if we can make some contact with them. And very often, it works well. They haven't responded to another person for a while, but they'll often respond to the dog."
But Bodhi doesn't just help patients. "I had one nurse here tell me as she was petting him and rubbing him, she said, 'Oh, I can just feel the dopamine.' And I think that's exactly the feeling you get when you pet a dog like Bodhi," said Joyce.
If you know someone in hospice care who could use some pooch-based dopamine and might benefit from a visit with Bodhi or Mr. McGee, let their social worker know, and we'll do everything we can to connect them.
And if you're interested in volunteering, be sure to visit our volunteer page.