At first glance, Advance Medical Directives can feel intimidating. They seem to exist at the daunting intersection of legal jargon and medical anxiety. But what if there was an easy way to cut through the complexity and get to the heart of the matter?
In an attempt to forge a better path, we joined Hospice of the Piedmont Social Worker Michael Williamson, MSW, LCSW, as he introduced The Five Wishes to residents at The Colonnades.
"Five Wishes is a tool I've used to help spur family conversations. For example, as a Social Worker, I might sit in a family's home and go through some of the questions together. It helps the family to understand one another," says Williamson.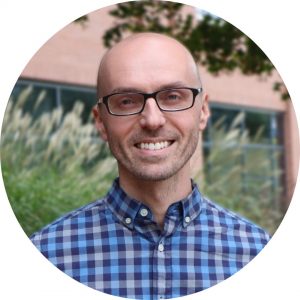 What is an Advance Medical Directive?
Many people first encounter an Advance Medical Directive when working with an attorney on their Will or Estate Plan. And while it may seem natural to link these two documents – because both are related to the end of life – their purposes are very different. "An attorney is beneficial to talk to for various facets of handling assets or business arrangements, and families need that. But that's not the same thing as drafting medical wishes," says Williamson.
Fortunately, we all have the right to choose the kind of medical treatment we want; an Advance Medical Directive can help us do that even if we can't speak for ourselves. While many people complete an Advance Medical Directive with their attorney, there are also more straightforward forms that you can fill out on your own to accomplish the same outcome.
Williamson recommends a document called Five Wishes, which was created more than 25 years ago by Jim Towey, an attorney who worked with Mother Teresa. Towey witnessed firsthand the challenging choices people often make at the end of life.
"It's user-friendly and written in conversational language," says Williamson. "There's nothing wrong with paying an attorney. But, with The Five Wishes, there are no fees involved. You simply fill out this document and have it witnessed by trusted people. And it's a legal document."
According to Williamson, the true value of the document goes beyond its legality. The real benefit is the conversation it enables. "Many times, people don't know where to start. They say, 'I want to have this conversation with my family. Where on Earth do I start? This is so awkward.' So, this is a tool to begin that conversation with your family and other trusted people. It enables people to say, 'These are the things I want to discuss. Let's go through it together.'"
What are the Five Wishes?
Five Wishes is a twelve-page workbook that covers multiple aspects of end-of-life planning.
The first wish identifies the person you want to make decisions for you if you cannot make them for yourself. This person can be called a health care agent, a medical power of attorney, a medical surrogate, or a medical proxy. "They all mean the same thing," says Williamson cutting through the legalese.
In a recent End of Life University podcast, Joanne Eason, President of Five Wishes, explained her thought process behind choosing a health care agent. "My spouse and I had a conversation. I told him, 'If I'm seriously ill, I want you by my bedside. I want you to be near me and not having to deal with some of these other issues.' And that's why it might be important to have somebody else be that health care agent. I have a sister-in-law who's a nurse and a bulldog, and I really think that she would probably be an excellent health care agent."
The second wish details the type of medical treatment you would or would not want. Oftentimes this question gets simplified in the media as, "Do you want life-support or not?" But The Five Wishes introduces more nuance to the discussion and even allows you to leave the decision up to your doctor and family, given the specifics of your situation.
The third and fourth wishes cover your comfort and how you want people to treat you. The document covers interesting and thoughtful questions like: Do you want to be massaged? Do you want people to pray by your side? Do you want music played in your room?
The fifth question encourages you to think about your legacy and how you want your loved ones to remember you. It also details what you'd like to happen with your remains and the type of memorial service you'd prefer.
Are the Five Wishes legal?
Now you may be thinking, well, that's all sweet and lovely, but is any of this legal? Yes. It is. Williamson explains, "In Virginia, the document needs to be signed by you and witnessed by two people who are not the person you're appointing as your health care agent. It does not need to be notarized."
Although it is a legal document like a Will, there is one significant difference between your Will and your Advance Medical Directives: You should give a copy of your Advance Medical Directives to many people. After all, the only reason anyone will be looking for your Advance Medical Directive is if you're unable to speak for yourself. So, don't lock it away in your safe.
As Williamson explains, "Make sure that the people you appoint as your health care agents have a copy, as well as your primary care provider and other medical providers. For example, in Charlottesville, someone might primarily go to Sentara, but they might see a specialist at UVA twice a year. In that case, the document on file with Sentara wouldn't necessarily be in the UVA system. So, it might be good to have it at both locations."
Remember, it's entirely possible you'll never need an Advance Medical Directive. "It's a bit of an insurance policy," says Williamson.
How can I learn more?
If you'd like to learn more about Five Wishes, you can purchase copies of the workbook directly from their website. Or better yet, if you'd like a representative from Hospice of the Piedmont to bring a Five Wishes workshop to your organization for free, write to us at info@hopva.org.