They allowed me to be a wife again, and not just a caregiver.

Pam Higgins, wife of patient
The first thing James Higgins did upon meeting his Hospice House volunteer John was share a photo of him and his son Jay, who's a Naval officer, in his "whites." "He was so proud to show off his son," said John, who learned that Mr. Higgins was himself a veteran, having served four years in the Air Force. "I thought Mr. Higgins would enjoy being honored with a pinning ceremony, given the family legacy of military service. I thought it would provide a special moment for Mr. Higgins and a special memory for his son."
Pinning ceremonies are just one element of HOP's "We Honor Veterans" program, which seeks to address and respect the unique end-of-life challenges former military personnel and their families face. At first, Mr. Higgins was hesitant to be the center of attention with a pinning ceremony, but eventually came around. The pinning ceremony took place in late July at the House, with his family in attendance, a few weeks after he was admitted there.
Mr. Higgins' military service was, in large part, an inspiration for his son, Jay. Twenty-plus years ago, Jay had dropped out of high school and was admittedly not doing anything meaningful with his life. One day, his dad sat him down and encouraged him to enlist in the military. Jay was hesitant, but two days later he was in a recruiter's office, enlisting in the Navy. Since then, he's been fortunate to continue his education and advancement: he received his MBA in September 2016, and he's moved up the ranks in the Navy—he's now an officer.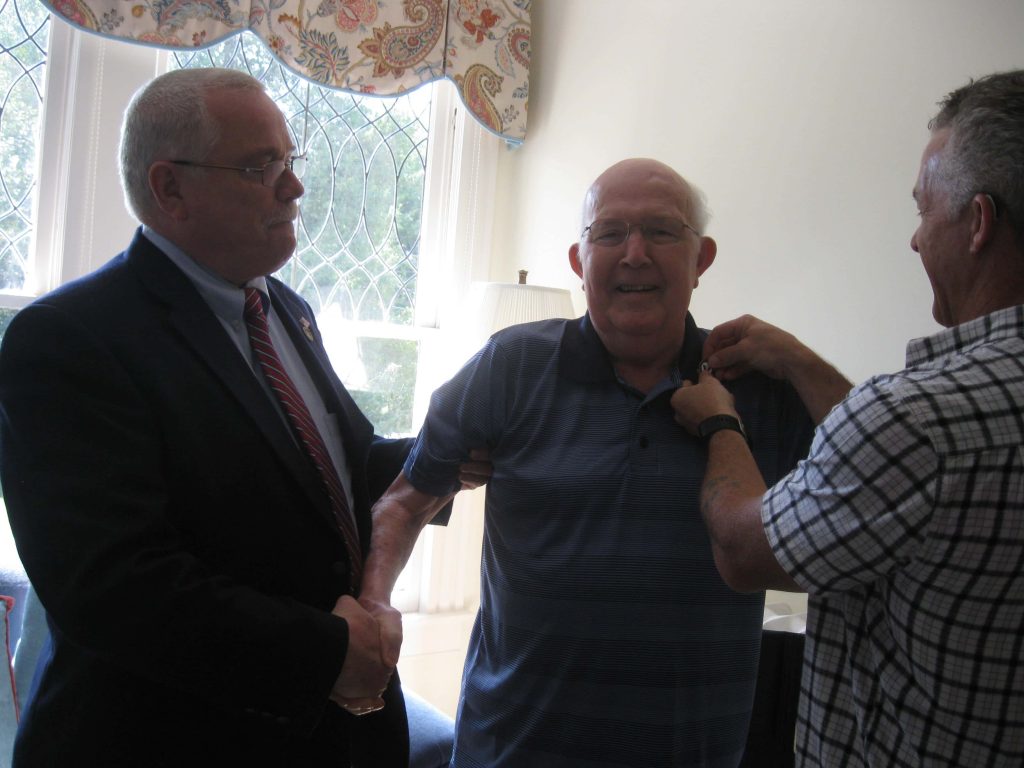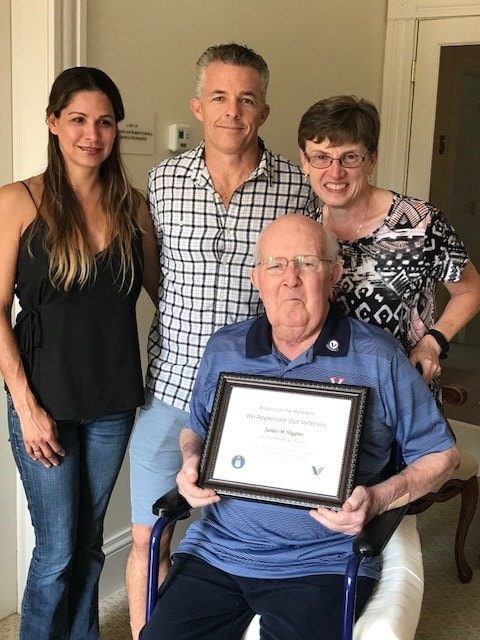 Jay, his wife Cheri, and Mr. Higgins' wife Pam attended the pinning ceremony, where there were lots of laughs and storytelling by family members. It was a special day for Mr. Higgins, who had pinned his son Jay when Jay became a Lieutenant Commander in December 2015, and watched his son place a commemorative pin on his lapel during his "We Honor Veterans" ceremony.
Mr. Higgins passed away at the Hospice House less than two weeks after that pinning ceremony. His son describes how significant the impact of HOP's care was on their family during his time at the House: "The comfort factor was incredible," Jay said. "It got to the point where my dad's needs were overwhelming and too great to be met at home. It was like a huge weight was lifted once he was admitted to the Hospice House, a huge burden off his wife's shoulders."
"The staff at the Hospice House was second-to-none," said Mr. Higgins' wife, Pam, who stayed at the House during her husband's final weeks. "They allowed me to be a wife again, and not just a caregiver."Thanks to the generous support of neighbors like you, we're able to provide unique and comprehensive care to veteran patients like Mr. Higgins, while addressing and respecting their individual needs and history.
Learn more at: https://hopva.org/we-honor-veterans/