A recent survey found that only 50% of Americans have had a serious conversation with a loved one about their wishes for end-of-life medical care. This lack of communication can lead to confusion and stress for families when a loved one is nearing the end of life.
Hospice of the Piedmont is working to change this by encouraging people to explore their questions about death. In June, we partnered with The Center to host Charlottesville's first-ever Death Over Drafts event.
The gathering aimed to provide a casual and inviting space for open discussions about death – a topic people often shy away from. Attendees were treated to complimentary beer and wine, creating an atmosphere where conversation flowed.
The event gave participants an opportunity to share their perspectives, reflect on their own mortality, and connect with others in a supportive environment.
Our Mission to Transform the Community
The driving force behind the event was Hospice of the Piedmont's mission. At HOP, our mission is not only to take care of patients and families but, as a nonprofit, we want to take care of the whole community.  And that means trying to positively transform the way people think about death and dying.
As a hospice, we know that all too often, people put off talking about the end of life until they are confronted with the reality of their own mortality. As Beth Eck, Director of End-of-Life Doula Services at HOP, poignantly noted, "It's always too soon… until it's too late."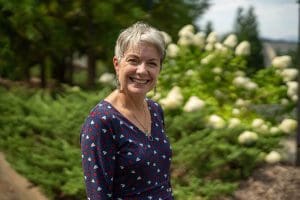 By hosting events like Death Over Drafts, we are trying to destigmatize discussions about death. We know these are not easy conversations to have, but like anything else in life, hopefully, they get a little easier with practice.
The Death Over Drafts concept was created in 2019, by an end-of-life doula in California. Since then, the idea has spread to breweries and other venues across the country. Hospice of the Piedmont first took note of the trend during the rollout of our Positive Transformation Project.
Tackling Thought-Provoking Questions
Under Beth's guidance, the event began by acknowledging the courage displayed by attendees in joining the conversation. "I want to thank you for taking a risk by being here," said Beth.
Participants were then invited to engage in small-group discussions at their tables, guided by thought-provoking questions designed to get people to share their perspectives on the end of life. HOP's Volunteer Death Doulas facilitated these conversations, ensuring a safe space for curiosity and exploration.
One such question asked participants whether they would want to know the exact details of their impending death, even if they were powerless to alter it. This led to varied responses, highlighting personal perspectives on acceptance, living in the present, and the value of uncertainty.
Another question invited participants to contemplate how they would spend their time if given a prognosis of six months to live while still enjoying good health. Responses ranged from cherishing the status quo to seeking reconciliation with estranged loved ones or embarking on meaningful travel experiences.
A Surprisingly Fun Way to Learn
Perhaps it was just the free beer talking, but as the event drew to a close, attendees voiced their appreciation for an evening that combined education and enjoyable conversation. "That was fun," said one participant.
Some remarked on how the discussions compelled them to consider aspects of death they had never contemplated. "I learned so much from conversations with others," said another attendee.
Overall, the event created a friendly and engaging environment that allowed attendees to gain valuable insights and broaden their understanding of life and death.
For the HOP Team, the positive feedback reaffirmed the importance of fostering open dialogue and breaking down societal barriers surrounding death.
Looking Ahead
Buoyed by the resounding success of the inaugural Death Over Drafts event, Hospice of the Piedmont is already planning future gatherings
Our next event is scheduled for Thursday, July 20th, at the Old House Vineyard and Brewery in Culpeper. The event promises to build upon the momentum generated by the first gathering. We hope you'll join us.
RSVPs can be made through the Hospice of the Piedmont website.