"If you had 6 months to live, what would you do?" That's the question at the center of Hospice of the Piedmont's new public-facing campaign to positively transform how people view and experience serious illness, dying, and grief. 
Building a Movement to Transform Hospice Perceptions
"Our goal with this campaign is to tell the hospice story in a new way. When people think about hospice, they typically just think about death. But hospice is about so much more than that," said Jenn Downs, Hospice of the Piedmont's Chief Marketing and Development Officer. "This campaign is a chance for us to show that hospice isn't just about the end. It's about having the kind of ending that you deserve, by spending the last chapter of life the way you want to."
While our research shows that our community's experiences with Hospice of the Piedmont are largely positive, many people still have assumptions about hospice that prevent them from calling sooner. In 2020, half of hospice patients were enrolled for 18 days or less, and a quarter were enrolled for 5 days or less.
Drawing Inspiration From Real Hospice Stories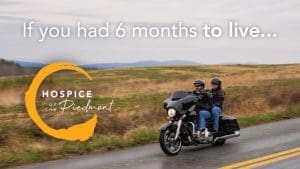 Through our "6 Months to Live" message, Hospice of the Piedmont is reinforcing the importance of starting hospice care earlier to improve quality of life for patients nearing the end. The stories highlighted through the campaign are inspired by real people – like this 93-year-old who got to experience skydiving for the first time, and this motorcyclist whose dream was to take one last ride on a Harley Davidson. By showing the range of care, comfort, and experiences that can be made possible through hospice, we're reshaping public perceptions and inspiring people to think ahead about what the end of life can look like for themselves and their loved ones.
Take A Look Behind the Scenes
This campaign was brought to life over the past several months in partnership with Emergence Creative, Silverthorn Films, and award-winning local photographer Sanjay Suchak.
"We want to talk openly and honestly about death," said Eric Verkerke, Co-founder and Chief Creative Officer of Emergence Creative. "This campaign is all about giving people the power to take control. It's about how we live our lives in the final years and months. It's about the little things that really matter. Emergence is proud to help tell that story with Hospice of the Piedmont and our partners."
The campaign is currently rolling out on television, radio, and web, and in billboards and print publications across Central Virginia. Hospice of the Piedmont sends our biggest thanks to the creative team and dedicated staff that brought this project to life. Be on the lookout for campaign activations near you!