As human beings, we crave certainty. When we leave the house in the morning, we check our weather apps to see if we need an umbrella and occasionally get caught in the rain anyway. So, when it comes to understanding when to call hospice, it shouldn't surprise us that no one, not even medical experts, knows how long we will live.
And yet, much of the discussion about when to call hospice tends to revolve around the notion that it's for "people with six months or less to live." While that is technically and regulatorily true, as a practical matter, it's not always useful. In the history of the world, has anyone ever woken up in the morning and said, "I feel like I have six months to live?"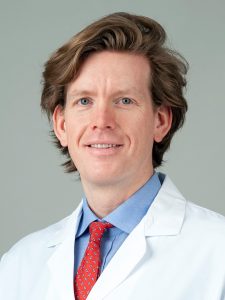 So how can we figure out when to call hospice? We sat down with Dr. Michael Dobson, a physician at Hospice of the Piedmont, to get his perspective. Dr. Dobson suggests considering these four questions.
1) How's your quality of life?
There are many technical factors that doctors use to determine hospice eligibility. But Dr. Dobson suggests a more personal starting place: Look at the quality of your life.
As we age or battle serious illnesses, new challenges arise. For instance, it can be a struggle just getting to doctors' appointments.
"One thing people should think about is how much time you're spending in the hospital or doctor's offices," says Dobson. "Sometimes, just getting into the car and dragging yourself to the waiting room can take up all your energy. On top of which, treatments at the hospital can be very uncomfortable, especially if you feel like you're not getting any better."
On the other hand, with hospice, the doctors and nurses come to your home so that you can figure things out in a more familiar setting. When meeting a new patient who is fearful about the concept of "hospice," Dr. Dobson sometimes gently suggests, "Maybe we try this other thing where a medical team comes to your home, and we focus on your comfort and quality of life."
2) Could hospice make your life better?
From the time we experience our first loss, we understand that death is painful. And because so many people associate hospice with death, our minds may naturally link hospice with pain. But here's a radical thought: What if hospice could make your life better?
"When the chemotherapy isn't working, or your heart is not doing what it's supposed to, or you're in and out of the hospital all the time, and nothing is really helping, that's when hospice can be really valuable because we focus on things that are providing you comfort in the short term," explains Dobson.
This subject comes up frequently in hospice admissions discussions, and the Hospice of the Piedmont team is always willing to talk about specific situations. "When aggressive therapies aren't working or when they're causing more suffering than relief, it may be time to consider hospice," says Dobson.
3) How has your life changed?
If you spend a few minutes searching the internet for "signs that it might be time for hospice care," you'll find many lists of technical-sounding requirements for hospice. (see box below)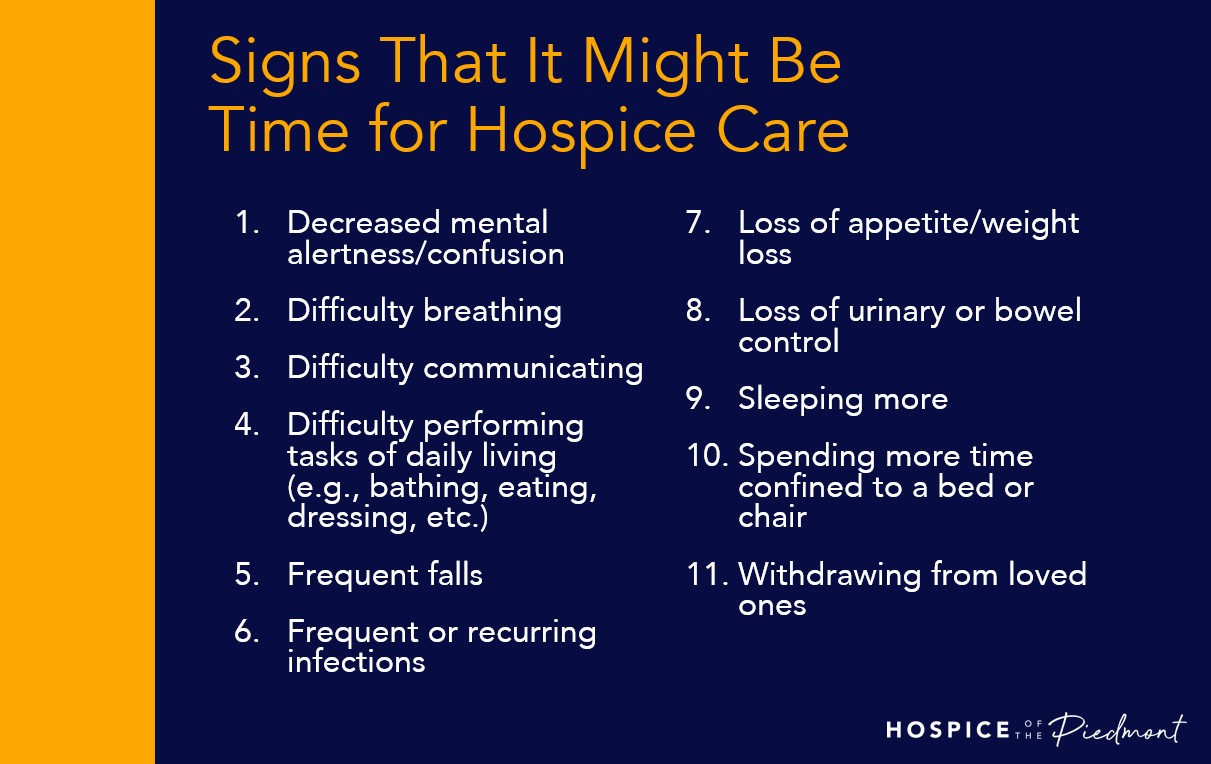 "I think having those long lists are good for patients and families because it's not like anyone can say, 'I think I have six months or less to live.' But they may recognize that grandma has lost a lot of weight, and that can be the trigger to call hospice for advice."
When Dr. Dobson meets with a new patient, he'll often ask about how things have changed over the last week, month, and year. So, review the list and think about how things have changed.
4) What are you waiting for?
Hospice is a serious subject, but don't let the seriousness prevent you from getting information. The biggest problem Dr. Dobson sees is that people enroll in hospice too late. "It would be nice if everyone considered it much earlier. You don't need to sign up; just do yourself a favor and get the information," he says.
Think about other significant decisions in your life. Would you wait until the last minute to shop for a new car? Of course not. You'd start researching cars long before you need a new one.
Similarly, it's worthwhile to reach out to hospice and understand if you (or your loved one) are eligible for hospice care. Determining eligibility can be complex, and every individual is different. So, what does the process look like?
"Typically, we arrange an informational visit from one of our highly experienced admissions nurses. They come to your house or facility or wherever you are, and they talk to you about what's been going on. They'll review your medical history and answer your questions. If it's appropriate, you can be admitted; if not, then you and your family get this rich information session where everyone can better understand what hospice is and when to reach out again."
There are no crystal balls.
The uncertainty surrounding the prospect of dying, or losing someone we love, can feel overwhelming. But you don't have to face death alone.
Hospice of the Piedmont has a team of nearly 200 professionals committed to making sure no one needs to go through the experience of death alone. If you think understanding your options would bring some peace of mind, call us at 800-975-5501, or email us at info@hopva.org.