Every week, as the interdisciplinary team meeting of doctors, nurses, social workers, and others comes to an end, our chaplains and grief counselors lead a distinctive ritual. They read the names of patients who have died in the last week and ask, "Which color best represents this patient?"
Nurse Amy Lawrence recalls a patient who was a big Ohio Buckeyes fan, "I'd give him a red stone," she declares.
Nurse Lee McDaniel remembers a patient who always liked being outside, "I'd say green," she offers.
Sometimes choosing a color is more challenging, as Nurse Aubby Dugan remembers a patient who cared deeply about the community. "What's a good color for public service?" she asks. The team ultimately decides on blue.
And then there are the patients who seem almost too enigmatic to be defined by a color. "He was my wild one," Nurse Angie Barbour remembers. "What's a rebellious color?"
For the team members who cared for these patients, choosing a color is a way to honor their memory and convey the patient's unique personality. But, this ritual is more than just a way to remember the patients who have passed away while in their care. It's a process that helps them honor the deceased and attend to their own grief.
Remembering Each Patient Through Art
Through this process, the team memorializes each patient who has passed away while in their care. It's a small but meaningful way to remember and honor the deceased. And it's the foundation of the Hospice of the Piedmont Annual Patient Memorial, a year-long project that celebrates the lives of the patients we've served.
Hospice of the Piedmont says goodbye to about 25 patients a week – every week. To formalize the process of remembering these patients, the Grief and Healing team at HOP creates a new art project every year to honor the lives of those who have passed away while in their care.
The History of the Annual Patient Memorial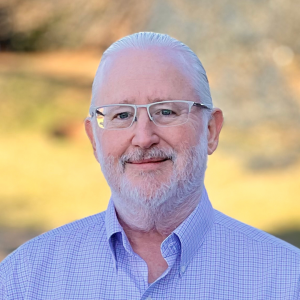 David Flack has been a Chaplain with Hospice of the Piedmont for over twenty years. As far back as he can recall, remembering patients who have passed away has always been a part of weekly team meetings. "At the end of the meeting, the conversation always organically turned to sharing about patients and their families. We share sad stories or funny stories," he says.
The formalization of the grieving process started about ten to fifteen years ago, according to Flack. Since then, HOP's Grief and Healing team has designed it each year.
Art therapists like Darlene Green work with the rest of the team to design an art project that celebrates the lives of each patient who "transitions" while in hospice care. The team has created various projects in the past, such as using layers of different colored sand poured into a vase, little gift boxes with different colors and patterns, and a big piece of velvet with little gems glued onto it, representing a starry sky.
Honoring the Lives of Patients
Over the last 12 months, the team has remembered each patient that passed away with a different colored piece of sea glass. That color is a reminder of who that person was, and the team hopes to humanize and honor them in this way.
"It's a visual representation of each person that helps us think about them individually and celebrate their lives," says Flack.
The hospice staff recognizes that each patient is unique, with their own set of experiences, hopes, and fears. We strive to provide care tailored to each patient's individual needs, taking into account their physical, emotional, and spiritual well-being.
The Annual Patient Memorial is a way of honoring that philosophy of care. It's a way of acknowledging each patient's unique qualities and their impact on the world around them. It's a way of recognizing that each life is precious and deserves respect and dignity.
Practicing Self Care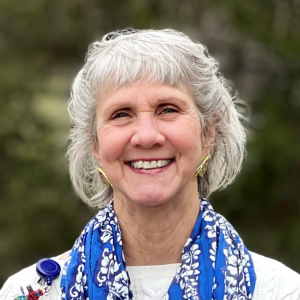 The Annual Patient Memorial serves as a way to honor the lives of each patient who passes away while also taking care of the team.
"The people who care for the patients grieve, too. And this is a way to help attend to their grief," says Green. "Sometimes our team can spend months or even a couple of years with somebody. It gives them a chance to talk about this person they care for, who has become part of their life."
As clinicians, it's crucial for the team to bring closure to each patient because they're constantly moving on to other patients. "If we can connect with each patient as an individual, I think that helps us move forward to attend to the next person," adds Flack.
The team's experience with death and dying can take an emotional toll. It's essential that the team pauses to take care of themselves. "None of us really know how this cumulative grief will affect us down the road. That's why it's important for everyone on our team – individually and collectively – to work to resolve our emotions and feelings within this work," explains Flack.
Sharing the Patient Memorial
The team wrapped up the project using sea glass at the end of March and will share the final artwork at our Spring Memorial in May. This is a private event for patients' families to come together with caregivers from the HOP team.
"At our Spring Memorial, we share the art project with families and explain how we've been honoring their loved ones throughout the year," says Green.
To learn more about this year's Annual Patient Memorial art project, visit our virtual gallery below. And to stay up to date with everything happening at HOP, sign-up for our monthly newsletter.