Commitment to Transform Death and Dying Process Remains Top Priority
CHARLOTTESVILLE, VA – February 9, 2023 – Ron Cottrell, President and CEO of Hospice of the Piedmont (HOP), announced today that he is retiring. Cottrell joined HOP in September 2016. Prior to HOP, Cottrell served in administration at Sentara Martha Jefferson Hospital for 27 years.
"I am so blessed to have been part of an organization that provides such meaningful support to patients and their families during the final months of life," said Cottrell. "When I started at HOP, I knew this work was important, but seeing it up close and personal has given me an entirely different understanding. We are with people at their most vulnerable moments."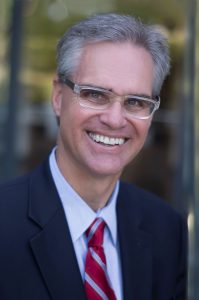 Under Cottrell's leadership, the organization has grown and expanded its service offerings. In 2020 HOP launched its Palliative Medicine program, setting the nonprofit organization apart from other hospices by providing supportive care for patients undergoing treatment for serious illness. HOP also added several full-time physicians to its team and earned recognition from the Accreditation Commission for Health Care (ACHC). Additionally, Cottrell steered the organization through the challenges of the COVID-19 pandemic and has increased the number of patients and families served.
"Ron has been an invaluable asset to the organization, and we very much appreciate his leadership and management," said Scott Syverud, Chair, Hospice of the Piedmont Board of Directors. "They always say you should leave an organization better than you found it, and Ron has done just that."
Most recently, Cottrell oversaw the launch of the Positive Transformation Project, an initiative aimed at inspiring conversations about death and dying, making HOP more visible, and engaging with the community. The project includes a multi-faceted outreach and communication plan to normalize the conversation around illness, death, and grief and help people across Central Virginia better prepare for the end of life.
"Hospice of the Piedmont is making moves in the community and working to create an important and needed culture shift. I'm proud to have been a part of this work and look forward to seeing it positively impact our community for months and years to come," noted Cottrell.
A national search firm has been engaged to assist with the process of seeking Cottrell's replacement. Cottrell will continue to serve in his role until the next CEO is named, as both he and the Board of Directors are committed to ensuring a smooth transition.
About Hospice of the Piedmont
Hospice of the Piedmont (HOP) is a community-based nonprofit that has been offering expert care and peaceful resolution to Virginia families for over 40 years. Based in Charlottesville, HOP cares for patients with serious illness and their families during the final months of life and offers grief and bereavement services to the entire community. HOP serves residents in Albemarle, Augusta, Buckingham, Culpeper, Fauquier, Fluvanna, Greene, Louisa, Madison Nelson, Orange, and Rappahannock counties, as well as the cities of Charlottesville, Waynesboro, and Staunton.
###
FOR IMMEDIATE RELEASE
Contact
Jeremy Jones, Communications Manager
Hospice of the Piedmont
434-817-6900
Jeremy.Jones@hopva.org