When you've both been in the military, you connect with that person because of those shared experiences

Steve Ham, Hospice of the Piedmont Volunteer
One of the unique ways Hospice of the Piedmont is able to support our patients is through the volunteer-led "We Honor Veterans" program, which focuses on thoughtful conversations with our veteran patients and recognition of service through pinning ceremonies. One such ceremony took place recently at the Gordonsville home of Army veteran and patient Reginald O. Brown. The ceremony coincided with Mr. Brown's 87th birthday, so many of his family members were in attendance for the ceremony.
Mr. Brown was born on March 23, 1931, to the late Thomas and Mollie Brown of Gordonsville. He attended Orange County Public Schools and enlisted in the United States Army on July 22, 1950. He served in the 25th Infantry Division, 2nd Battalion, 24th Regiment, Combat—Korea until 1954, achieving the rank of Master Sergeant during that time. After enlisting, he spent 18 weeks in basic and advanced training in Kentucky and Maryland. After training, he went to South Korea, where he was part of the allied invasion of Inchon, South Korea, and spent 11 months living mostly outdoors in foxholes during combat. After his time in South Korea, Mr. Brown returned to Fort Knox, KY, where he became Company Commander and supervised 140+ men in training to go to war. He was then transferred to Fort Indiantown Gap, PA, where he was an instructor overseeing 240+ men.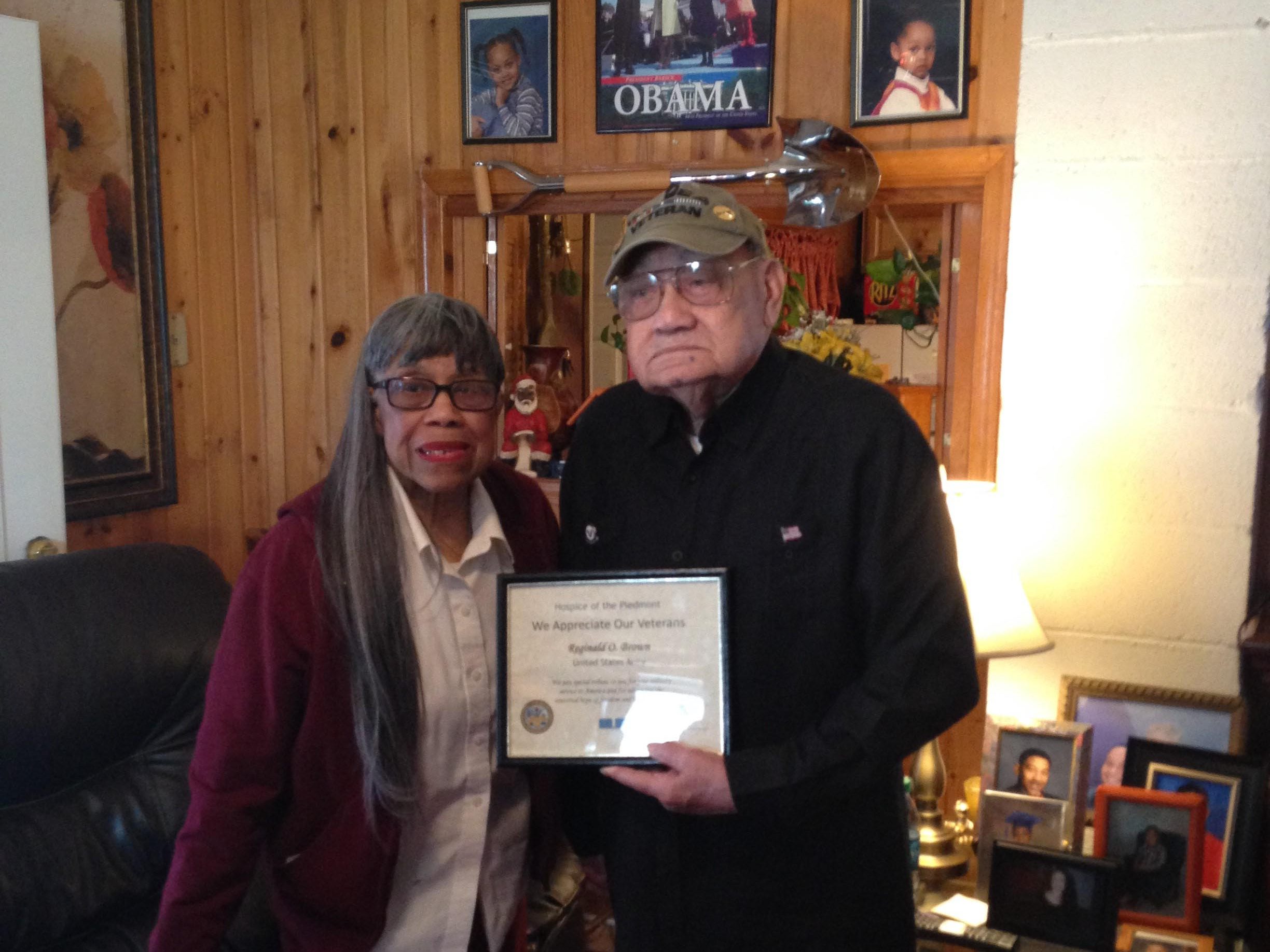 In addition to his significant war-time achievements, Mr. Brown married the love of his life, Alice Robinson, on April 13, 1952. They share seven children, six grandchildren, and three great-grandchildren. Mr. Brown's post-military career took him to Virginia Metal Industries and Liberty Fabrics. He also served for 10 years on the Gordonsville Town Council and was the Vice Mayor of Gordonsville for four years. "He was honored to serve his country and his community for the years that he did," said his daughter Katrina Brown Richardson. "He is well-respected and well-loved."
Steve Ham, a 20-year veteran of the Air Force and Hospice of the Piedmont volunteer, conducted Mr. Brown's pinning ceremony on March 23. When he arrived at the family home, Mr. Ham met Mr. Brown – who has the life-limiting disease of emphysema – and said they immediately developed a bond. "When you've both been in the military, you connect with that person because of those shared experiences," said Mr. Ham. As Mr. Brown shared stories of his military experience, Mr. Ham recognized that, "he was 18-year-old kid who hadn't been far beyond Orange County in 1950. He was suddenly heading halfway around the world into war." Despite that, and the fact that he served in a segregated military, Mr. Brown harbors no resentments about his military and personal experiences.
"I felt a real kinship with him as we stood together," said Mr. Ham of conducting Mr. Brown's pinning. "It was a warm, rich experience for me and for the whole Brown family—especially so because it was his birthday."
The "We Honor Veterans" program is one of the many specialized programs we provide to our patients, thanks to the generosity of our community. To learn more about how you can support or become involved with this program, call us today: 434-817-6900.